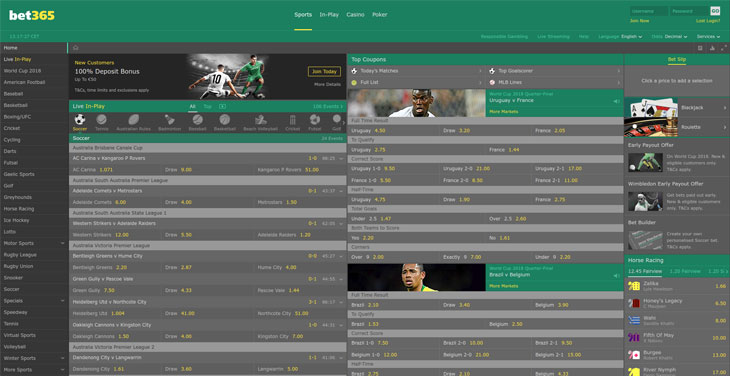 100% up to $100

Welcome Bonus
Visit Bet365 and open your account

Enter the Cashier and make a min. deposit of $10

You can now claim a welcome bonus of $100
Bet365 is one of the leading gambling websites in the industry. This website traces its origins back to the early 2000s and it quickly rose to prominence over the years. Currently, it is one of the largest websites of its kind and its name is known throughout the industry. It includes a sportsbook, casino, poker and bingo, but for the purposes of this review, we will focus on the sports betting section of Bet365.
There are many features to consider when looking at this website. For one, it has extensive betting options on a wide array of sports. This will allow you place just about any bet that you wish with very little to what you cannot. Additionally, Bet365 offers users a variety of customer service contact methods, thereby allowing them to receive help in many different ways. The great care and attention that Bet365 places into their users are commendable and is what separates it from its competition. Additionally, the sportsbook supports a wide array of payment services which you can use to control your online bankroll.
Not only does Bet365 provide you with an excellent service, but it also gives you the option to claim many different promotions during the course of your stay. These come in many shapes and sizes, but each will provide you with some sort of value.
If you are interested, read the rest of this review, where we cover every important aspect of this gambling website.
Software Platform and Features
A website with the reputation of Bet365 has a lot to live up to and we can happily report that it most certainly does so. Bet365 is full of excellent features that will make your experience that much better.
Starting from the most obvious and necessary, this website provides three different odds types that indicate the payout in a given situation. These are Fractional, Decimal and American odds, each with its different twist. They do not make that much of a difference in the long run as they do not alter the bet in any significant way, but they do provide crucial information about it and it is paramount that you read the odds in your preferred format.
Another excellent feature is the ability to watch games as they are currently taking place. The live streaming feature is a great addition to a sports betting website and it can be very useful when you make In-Play bets. You can also watch the games for fun if that is your wish and you are not required to place a bet to do so. There are multiple games being streamed at any given time and you can view any of them from the 'Live Streaming' menu on the website.
Something else that experienced punters will greatly appreciate are the stats of previous events for a variety of different sports that you can read. Bet365 provides its user base with statistics on selected sporting events which will certainly be useful when you place a bet. Nowadays, the ability to track how a team or player performs is vital for placing successful long-term wagers and anyone who likes the futures or proposition bets will no doubt be thankful this feature.
Available Betting Markets
For any sportsbook to be important there need to be a good number of sports that you can place bets on, as well as, an array of bet types for each sport. Bet365 has an extensive portfolio of betting options covering a great variety of sports. Below we will list some of the most popular betting markets available at Bet365.
Sportsbook
The sports selection at Bet365 covers a wide range of betting markets, including the most popular sports in the world. More specifically, you will be able to place bets on matches from multiple leagues thereby expanding your options greatly.
The NBA is one of the most prestigious basketball leagues in the world and Bet365 gives you the opportunity to place many different bets on the during each year's season. The NBA has been active for quite a long time and it holds a special place in hearts of punters all over the world, therefore it only makes sense for it to be available at this sportsbook.
In terms of soccer, you will find many of the most popular betting markets available at Bet365. This includes the United Kingdom leagues, European and Australian championships, and the World Cup 2018, which is still running at the time of this writing. There are many different soccer betting markets available at Bet365 at any given time so you will have a lot of options in that regard.
Tennis has certainly been rising in popularity in recent years and Bet365 is there to meet the increasing demand for tennis betting. Here you will have the opportunity to place bets on matches from the most prestigious leagues such as Wimbledon, Challenger Marburg, Challenger Recanati, among others.
Fighting events are always in fashion and it only makes sense for Bet365 to offer bets on certain matches. More specifically, this includes several boxing events and UFC games.
Racebook
In terms of racing events, you will find that Bet365 does not lack in that department also. Among the most popular racing events, we find Greyhounds racing, which includes several different markets. More specifically, you will be able to place bets on the UK and Ireland, Australia and New Zealand, and some Ante Post markets. There are also virtual Greyhounds events which you may be interested in.
Of course, no racebook can afford not to include Horseracing in its selection and Bet365 supports a large number of Horseracing markets. More specifically, this includes the International, UK and Ireland, Austria and New Zealand, and North American markets. Additionally, Bet365 also has a multitude of Antepost betting options available for those interested, as well as, several Virtual Horse Racing events.
Deposit and Withdrawal Choices
As we previously mentioned, Bet365 features a variety of banking options which you may use when you need to manage your bankroll. There are many different services which are supported by the sportsbook and can use any of them to fund your balance and withdraw it later when the time is right.
Credit cards are a great way to fund your balance since they provide you with instant transactions and will allow you to deposit up to €40,000 at a time. Moreover, they are widely accessible and you can easily acquire one. In terms of withdrawal, you can expect to receive your money within 5 business days and can cash in anywhere between €5 and €30,000. Bet365 accepts Visa, MasterCard and Maestro.
An excellent alternative to credit cards are the so-called eWallets which have become a staple of the online gambling industry. These services provide you with instant deposits and some of the quickest withdrawals in the business. You can deposit anywhere between €5 and €8,000 for PayPal or €35,000 for Skrill and Neteller. Electronic wallets are the prefered payment method for many punters and you can certainly make great use of them at Bet365.
Prepaid cards are also an option if you wish to remain anonymous or simply do not want to commit to any particular payment service. The sportsbook supports Paysafecard and Entropay among others and you can transact up to €1,000 and €40,000, respectively.
Bet365 gives you a wide variety in terms of choices and also it supports a great number of currencies. Here you will be able to deposit in all of the major ones such as USD, EUR, CHF, CAD, GBP and more. Before you can withdraw your balance you need to have passed a verification procedure, also known as Know Your Customer (KYC). This requires that you provide the sportsbook staff with some form of identification, such as a government-issued ID card, drivers license, utility bill or bank statement. If your payment service of choice does not allow for withdrawals, then the sportsbook will offer to pay you your winnings via bank transfer.
Promotional Incentives and Wagering Info
There are multiple promotions which await you at Bet365 should you choose to claim them. These are available from the moment that you open an account and continue to be on offer even after months of wagering. Below, we will list some of the current promotions that Bet365 is running.
Welcome Offer
The Welcome Offer becomes available to you immediately after you open an account. It includes a deposit bonus of 100% up to €50 the first time that you top up your balance. To become eligible for this promotion you will have to make a transaction of €5 or more. If you wish to withdraw the whole sum of the bonus you will have to fulfil certain criteria and abide by particular rules. More specifically, you will have to meet the turnover requirement which 3 times the size of the bonus. This means that you will have to place bet worth times the value of the bonus before you can withdraw it. Moreover, you will have to place bets at odds above 1.50 (½). Bets placed on Asian Handicap, In-Play and Goal Line options will not count for the purposes of this requirement.
Parlay Bonus
The Parlay Bonus is a promotion which will provide you with up to 50% more in profit on your parlay bets on American and Canadian sports. This includes parlay bets on the NFL, NCAA, CFL, NBA, NCAA, MLB and NHL events. The value of the bonus profit will depend on the nature of your parlay bet. Generally, the more folds in a bet, the more you will earn. It starts with 5% bonus on a Doubles Parlay bet and goes up to 12-folds or more Parlay which rewards a 50% bonus.
Given the risky nature of Parlay bets, Bet365 is willing to exercise some leniency in the event that part of your Parlay bet results in a push or it is canceled. More specifically, if you guess 5 out of 6 scenarios correctly and the 6th ends up in a push, then the sportsbook will treat your parlay as successful 5-fold Parlay bet. This means that you will not miss out on any profit due to a push.
Bore Draw Money Back
The Bore Draw Money Back is an excellent promotion available at Bet365. In the event that you place a pre-match bet on a soccer match and it ends in 0-0, the sportsbook will refund the sum of your bet if you lose.
This promotion only goes for bets which are not cashed out prior to the match ending. If only a part of the bet is cashed out, then only the remaining portion will be credited to your balance. This offer is an excellent way for you to get your money back if the match turns out uneventful and you should definitely take advantage of it.
Mobile Apps and Capabilities
Bet365 is determined to providing its user base with everything they might want or need. This also includes support for mobile devices which have become an integral part of our everyday lives. The mobile market is a dominant force in the online gambling industry and no sportsbook can afford to pass up on it. As a result, the vast majority of them cater to mobile users and Bet365 serves as an example of how great it can be.
There are two ways that you can use your mobile device to access the sportsbook. One is to load the sportsbook within the browser of your smartphone or tablet. This is the easiest way to gain access to the website and you can do it on just about any device. This method requires no preparation on your side and you will be able to immediately start placing bets.
The other way would be to download the dedicated application provided by Bet365. It is available for both iOS and Android device, though there are some differences in how you install them. The iOS app can be downloaded directly from iTunes and installed in a few clicks. The Android version, on the other hand, has to be downloaded from the Bet365 website and installed manually.
The mobile version of the sportsbook is no different from the desktop variant. On your mobile devices, you will still have access to all important features, including promotions, betting portfolio, customer service, banking and more. Users report that the mobile experience is just as good as the desktop one, which means that you can just as easily place bets from your smartphone or tablet.
Country Restrictions and Licensing
Licensing is an important aspect of any gambling website as it indicates that it is worthy of its customers' trust and that is has passed all required audits and tests. A license is usually issued by a government agency responsible for the oversight of gambling operations within the country's jurisdictions. These institutions issue certifications to gambling websites that have proven that their services are legitimate and will not take advantage of their customer base. Such websites are subjected to regular audits and have to comply with all necessary regulations in order to maintain their good standing. Moreover, they also need to be capable of protecting users' personal and banking information from unauthorized third parties.
In the case of Bet365, we find that this website is licensed by the Government of Gibraltar and the United Kingdom Gambling Commission, among others. These are two highly respected regulatory authorities that have an excellent track record of policing the gambling websites under their jurisdiction. Moreover, their word carries a lot of weight in the online gambling industry. Therefore, we can concur that Bet365 is as safe as any other website and that it can provide you with a fair and high-quality service.
Bet365 does operate within certain jurisdictions and territories for a variety of reasons. It can be that it does not have a license to offer its services in the region or the country has simply placed a ban on online gambling operations. In any event, gamblers residing in the following countries will not be able to take part in any sports betting available at Bet365: Belgium, Burundi, Cambodia, Chad, Congo Republic, Eritrea, France, Haiti, Israel, Monaco, Netherlands, North Korea, Philippines, Portugal, Puerto Rico, Singapore, Somalia, Sudan, Syria, Venezuela, Yemen, and Zimbabwe.